whenever we're in the mood for chocolate chip cookies, this is the recipe i always go by. they come out so yummy and are super easy to make!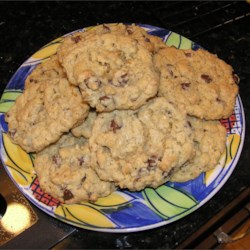 oatmeal chocolate chip cookies
[makes 3 1/2 dozen]
ingredients:
1 cup of shortening or butter
3/4 cup packed brown sugar
3/4 cup white sugar
2 eggs
1 1/2 cups flour
1 tsp baking soda
1 tsp salt
2 cups chocolate chips
2 cups rolled oats
[before you start making the cookies, make sure you don't have
instant
oats! the first time i made these, i accidentally got instant and when i took the first batch out of the oven, it looked like one big cookie because they all formed together!]
1. preheat the oven to 350º
2. in a large bowl cream shortening, brown sugar, and granulated sugar. add eggs & mix thoroughly.
3. combine baking soda, salt and flour and stir into creamed mixture.
4. add oatmeal & chocolate chips and stir until well blended.
5. drop by teaspoonfuls onto greased cookie sheet & bake for 15 minutes