Have I ever mentioned how much I LOVE coupons? The last time Aubrey & I saw Goldie, we got coupons for a free picture collage at Sears. I made an appointment and we went today! I didn't want to do super formal ones.. and I got another coupon today for the same thing so Aubrey & Keith can get some done. I chose the one of me kissing her as the main picture, then the one of her snuggled all up to me and the one of her looking away with the smile are in the left corner and it's adorable. Then I got ANOTHER coupon a couple weeks ago for a free 10x13 and we're going to get one of the three of us. Then we're going to put them in our bedroom with the two collages on either side of the family photo. Or maybe we'll replace the family photos in the living room and move those into our bedroom. We'll see :)
Things have been busy lately. Things are finally starting to slow down from the busy Holiday season, though Aubrey was sick a couple days ago so that wasn't fun. She has also developed a new obsession..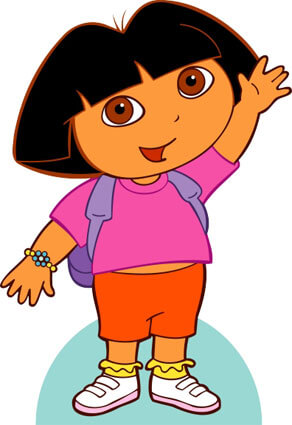 Wahhhh. Of all things for her to obsess over, the top 2 things I was praying NOT to happen were Dora & Barney. She stands at the tv and cries if it isn't on. We've probably watched the Dora Pirate Adventure DVD Santa brought her for Christmas about 20 times over the past few days.. but seeing her face light up every time is worth the constant yelling that watching a Dora episodes brings.. and I won't lie.. it's a nice distraction for her when I'm trying to get something done or just need a minute to myself!
Work has slowed down a bit but every time I go in, I see another new piece from the Spring collection that I *have* to have for Aubrey and I have slowly started filling her closet with her new-season wardrobe. So far it's mostly shirts, both short & long sleeved, but I've also scored a couple skirts and some skinny jeans for her. I wish I could see why I don't mind spending money on HER wardrobe when I know she'll outgrow it in a few months, yet I always hesitate spending money on myself. I guess shopping for her is my guilty pleasure.. though the past couple days, I HAVE gotten myself a few things with the money Keith gave me for my birthday and it has felt REALLY good to get something for myself for the first time in forever.
Hope you all are having a lovely week <3